First step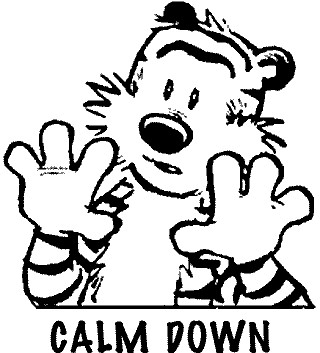 That is the number 1 rule in computer trouble. Do you know why? Well actually I'm just making this rule up but IT'S REALLY IMPORTANT!
Reason why it's the most important:
Computer problems are usually things that don't get worse over time. You pretty much already fucked up everything there is so if you don't calm down immediately, you'll probably go and take your sweet time and try to fix something without knowing how to by pressing pretty buttons AND MAKING EVERYTHING WORSE!
SO DON'T DO THAT.
Second Tip:
Get away from your computer, grab a pencil and a piece of paper, write down any error codes you got. AND WRITE THEM EXACTLY AS YOU SEE THEM. EVERY BIT OF IT (unless it's an entire page, in which case. just write the most important things you see and what you were doing right before it happened and right after it happened). This will help in the future when you find no solutions to your problem and seek professional help or ask a friend to help you. No one can know wtf you're talking about without error codes.
Third Step: If you're brave enough, google the codes, try to read up everything there is about the error code and also read the entire article because there might be something REALLY important that you needed to know before tweaking anything up (see my "HUGE VISTA GODMODE ERROR" thread to see what i mean).
If you have time: post your question on a forum of some sort and wait for feedback from computer savvy people. There is always a way to fix your error (unless you deleted some system file. dumbass)
Fourth Step:
Sometimes you may need some third party help. If you ever have the time and money, buy a usb stick (preferably 4 or 8gb... or more). And use
this
program to install a usb bootable linux distribution. Preferably Ubuntu because it's so easy to use. Using ubuntu you can browse the web for answers to your problem (assuming that you are in the situation where you can't boot into your windows partition).
Once you have that usb stick, put it in a safe place behind a $40000 safe if you must and DON'T EVER TOUCH IT OR USE IT AGAIN until you are in such a situation where it's the last choice. It is your last line of defense against a windows epic failure.
Fifth Step: Actually this one is kinda out of order, but anyway. Get comfortable with the command line! Of both linux and windows. Learn to use the basic commands such as "cd" and "rmdir" etc. These are MUST KNOWS of any operating system. They will save your ass one day trust me, it did twice today for me
________________________
Your last option should be to call tech support. Why? Because they will do something extremely simple and charge $100 for it

This is where being tech savvy pays off.
Good luck with all your BSODs and thanks for reading!

Admin

Pirate King




Posts

: 559



Yeah. I've learned from experience that when you're nervous and your hands shake, and you type "C:\Wondows\" etc. then that just messes it up more.

_________________
-Corey Hoard

(Yes, I totally copied Paul's avatar. Or, at least attempted to.)

Corey

Mod




Posts

: 462




Lunsfordium

[Blankie]




Posts

: 194





Similar topics
---
Permissions in this forum:
You
cannot
reply to topics in this forum